Project Hot-Rod
After many years of buying and selling of good hotrod canditates,I´ve finaly found what I´ve been looking for,a -32 Ford Pickup body as a base for my project,body was purchased in Baxter,MN,via an Ebay auction.My Buddy Mitch picked it up at Kurts, and have just crated it for transport to Nordtrafik´s terminal in Chicago.So it will hopefully be here in late April.Thanks to Mitch Zych and Ed Haig for helping me out with shipping.The car you see here is the car that really made me dicide on a pu body.if anyone knows or are the owner of this one, please contact me.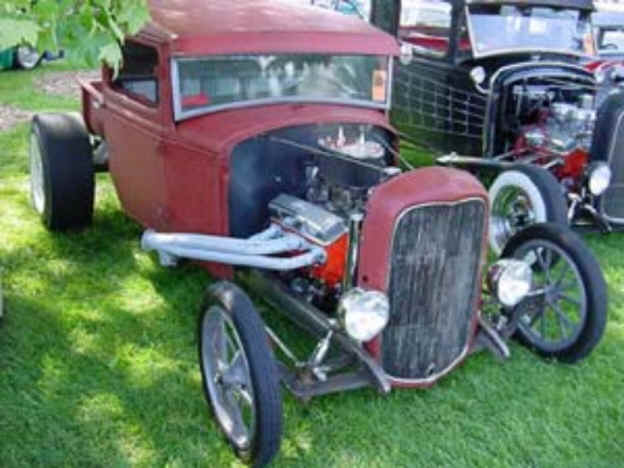 This is how it looks now?I personally think it was cooler in red primer,but opinions vary.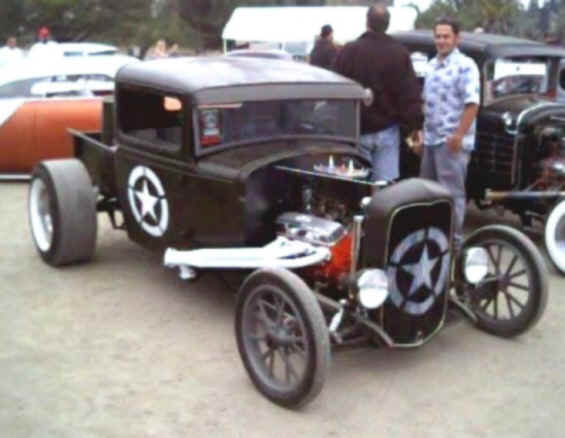 Below is the cab for my project,here it is in Mopar Mitch´s garage,waiting for further shipping to Chicago and then to Sweden,there´s a lot of work to be done,but all replacement panels needed is being reproduced.update:the body is now residing in my shed waiting for the new space to be cleared in the garage.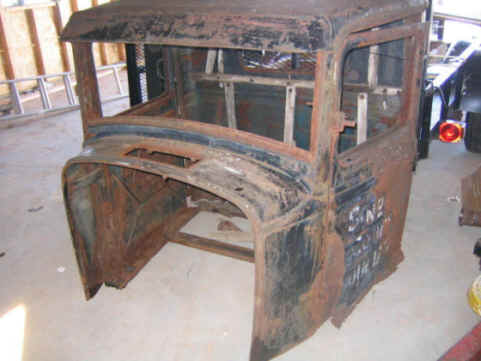 Inside the cab,some rust here, but you can´t expect a 72 year old cab to be much better than this.

This side probably been standing facing the sun for 30 years or so,not much paint left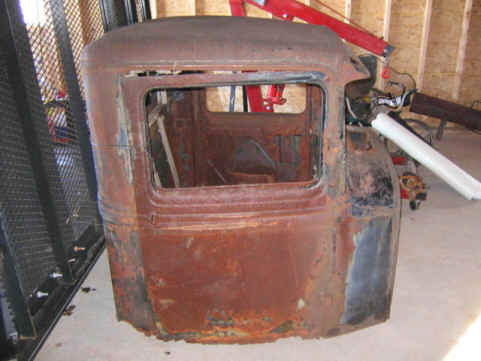 Now on to the engine,this one came from a 1955 new yorker,and displaces 331 cui,it produced 250hp in its day.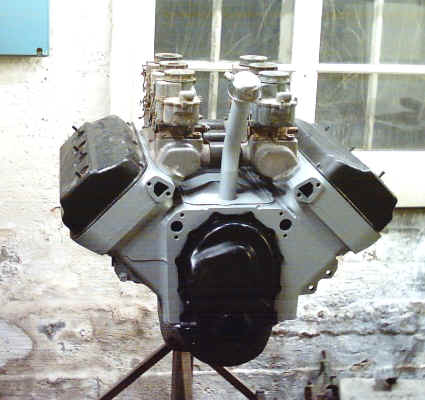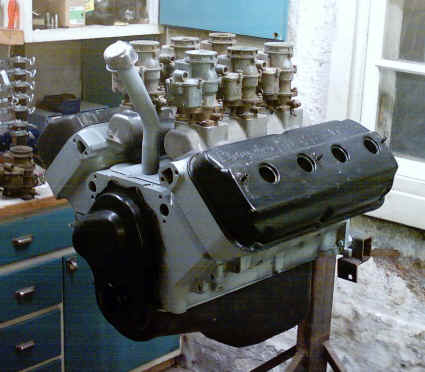 I bought this engine from Richard"Warlock" Thelin,as he needed money for a tube chassis cuda-65,so it was with a tear in his eye he let it go,plans include the edelbrock log manifold you see in the pic´s,and 6 holley 94´s,the carbs in the pic was sold,´cause I found out that overhauled carbs was available at a decent price.I´m going to bore the block0.127 to get 354 size bores,if the block is thick enough,I will have it sonic checked first.Crank will probably be a welded stroker,with 1/2" stroke,wich will produce a 4,125 stroke total,engine displacement will be just over 402cui,I will get H-beam rods from HotHeads,and the pistons will be Forged Ross slugs,Hopefully I will get a custom grind roller cam,and projected Hp will be 500 or so.If you have roller lifters for this engine laying around,I would be interested in buying them.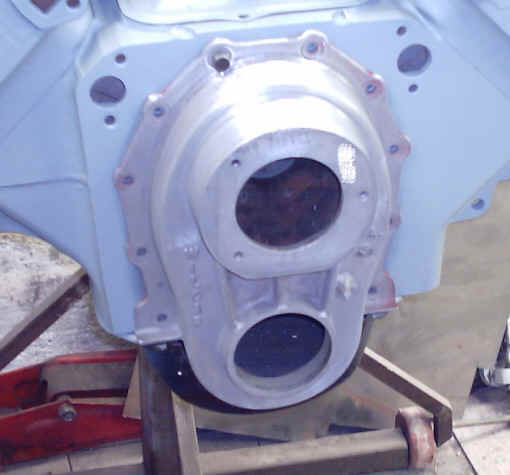 Here´s a wilcap front cover I bought,it has a very rough surface,and I started sanding it,and it will be polished when done.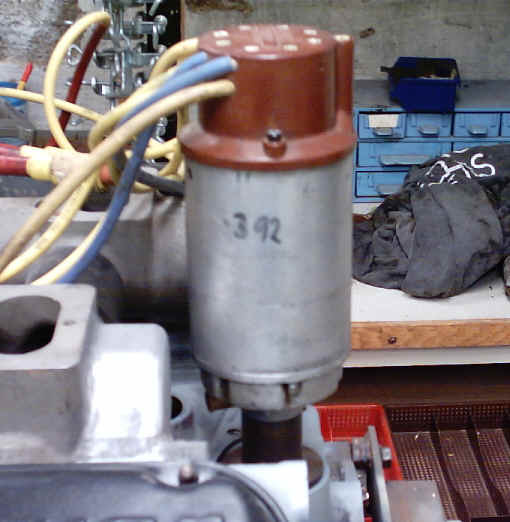 Her´s a somewhat blurry pic of the Scintilla/vertex magneto I bought from the same guy that had the wilcap cover,It´s for a 392, so I´ll have to make an adapter before I can use it.

On to the tranny,I was planning on a manual 833 or even a 5 speed,but an old 30´s cab does not exactly have the same roominess as a modern pickup, so an automatic would have been better for driving,but a real hotrod does have a manual box,what to do?the solution came when I found this Clutch-flite 727,the clutch kit comes from B&M,but was not in the promised condition,unfortunatly.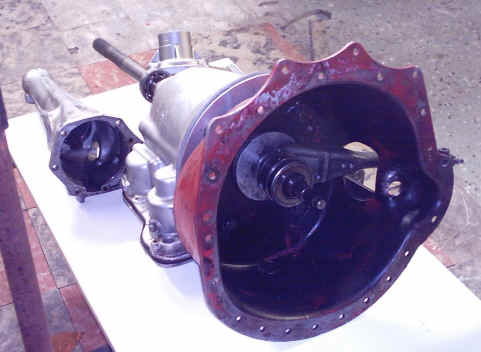 This is how it looked at arrival,the hydraulic throwout bearing turned out to be a hydraulic operated clutch fork,so I´ve bought a hyd-throwout bearing instead.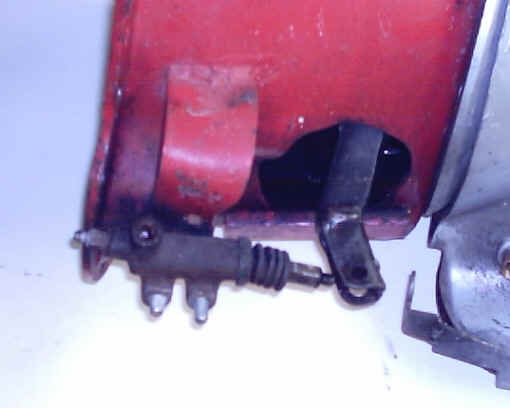 Close up on the hyd- slave cylinder,not what I wanted.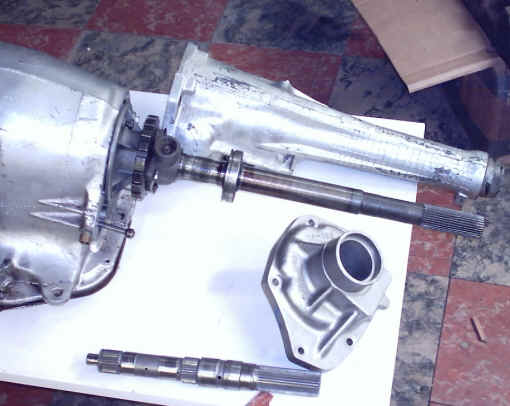 Here you can see the difference between the standard tailhousing,and the shorty B&M housing,drawbacks is the lack of speedometer drive, so I´ll have to make an electric one.the shorty axle also had damage from flexing.so I`ll will have to modify it some,there was no bushing for the yoke,so all side loads were going through one roller bearing only, not good.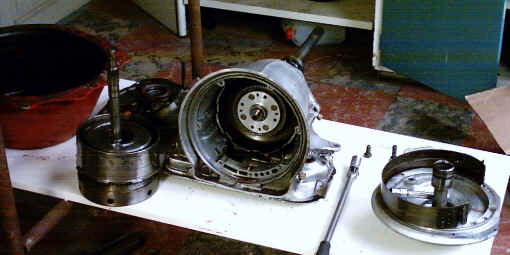 Because the trans didn´t meet the promised condition,and was spraycan painted with cromespray,I just had to rip it apart at once,and I discovered that the pump drive was shot,and the frontcover was welded.But what can you say,we´re talking about racing stuff that´s over 20 years old.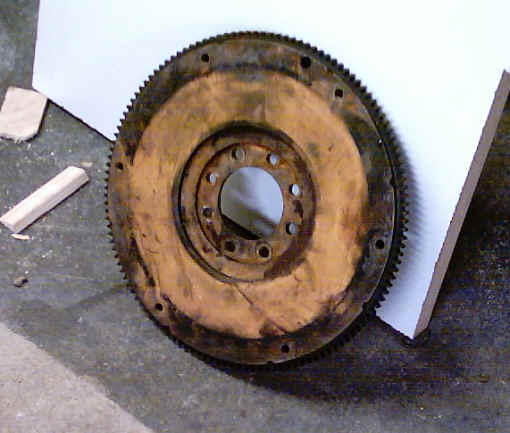 The flywheel that was included was also shot,someone had turned it down to SB size, and made the press fit for the starter ring-gear,to small(read,non existent)so someone welded the ringgear on, and obviously it had come loose,and welded again, and come loose again,talk about idiots!so I´m looking for a good used flywheel.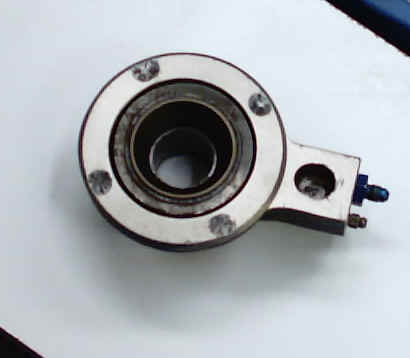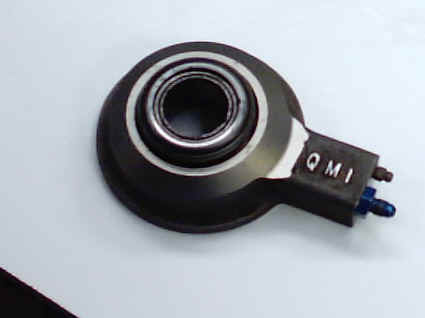 Here´s the hydraulic throwout bearing I bought,I do have to modify it some,due to the big diameter on the pumpdrive assembly,and I´ll bolt it to the front cover,don´t want any rattling and stuff.

Then on to the chassis and body,the cab is going to get the top chopped,similar to the -31 on top of the page,the head lights originaly came from a -40´s fordson truck,an english modell,and I´m looking for a replacement crome bezel, and an extra glass would also be nice.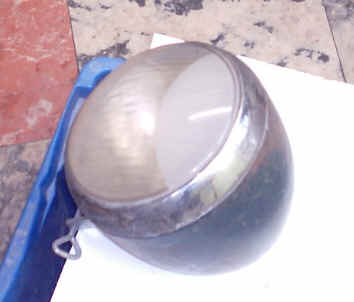 Headlightstands where bought from the same guy as the magneto and front cover,and will get polished before use,cabels will go thru repro "shower-hose".

Not that bad,huh?below are the taillight lenses from a -62 meteor,and the make -59 caddy lenses look boring.

Mega cool!I´ll make stainless bezels for them as I don´t have the original ones.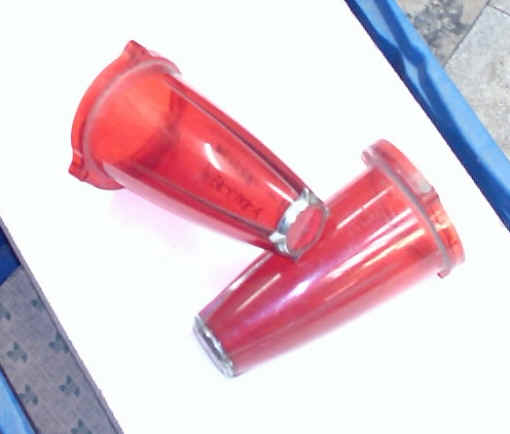 Hopefully this will be eye popping when done. chassie wise it´ll be a I-beam up front,with split wishbone,or hairpins,not decided yet though.
First mockup in the garage in june-06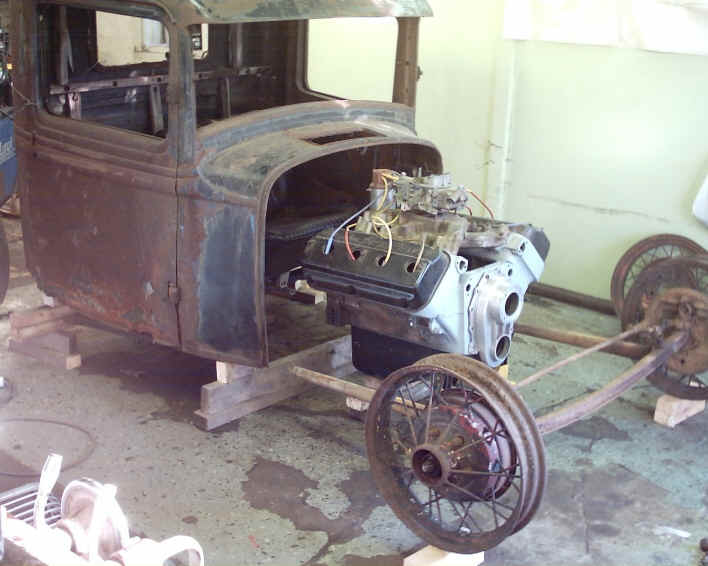 Looking good so far....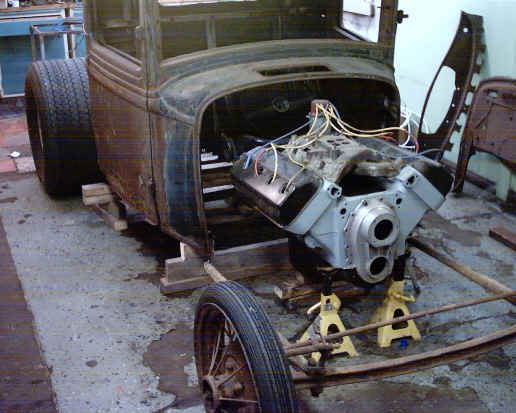 Bought tires,21,5x33x15 rears,and 3.00x19 fronts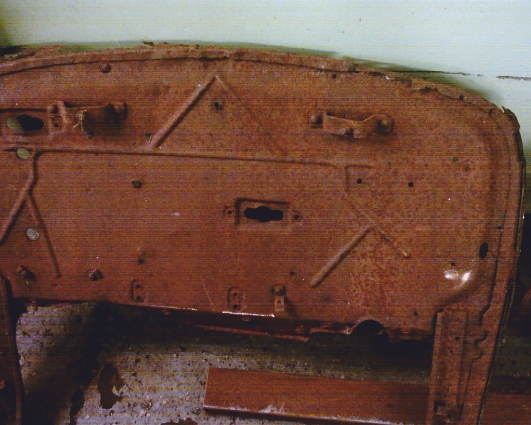 32 dodge? firewall that I found in the woods on a destroyed 4dr body.

dash from same car,has kinda the same look as 32 ford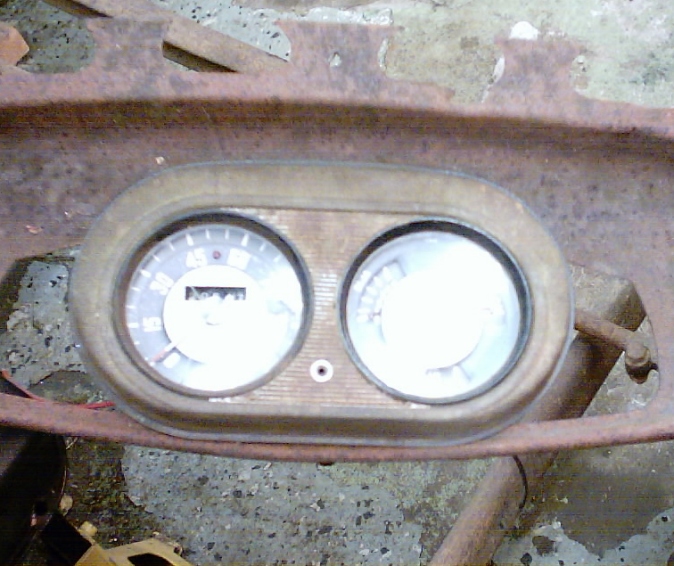 Bad pic of the ´62 volvo truck gauges.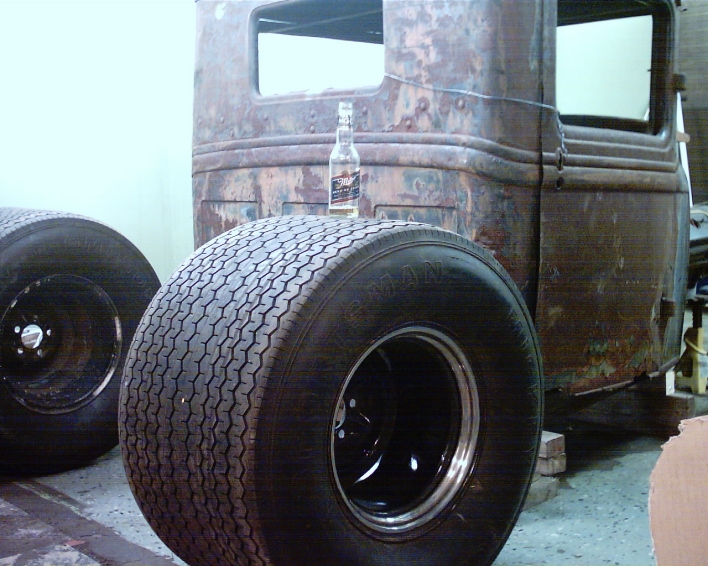 hot tires,cold beer....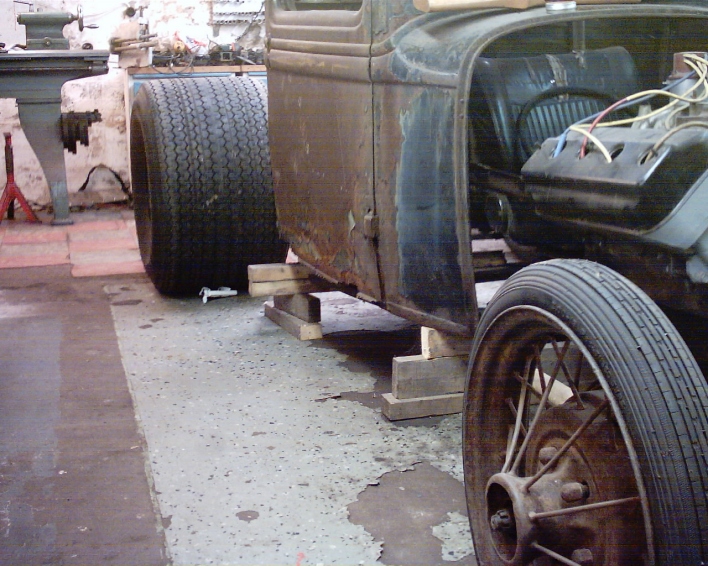 Looking good or what?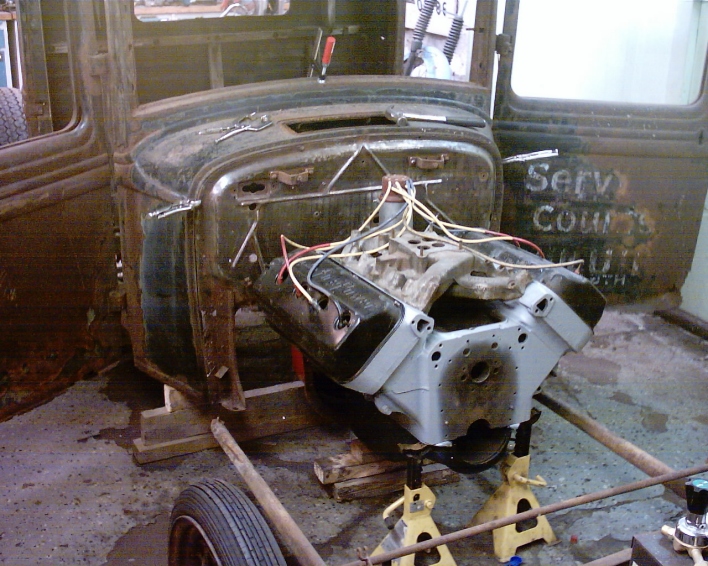 Dodge? firewall trial fitted on cab,looks almost like a perfect fit,sometimes you get lucky!had to move the engine forward some,a little awkward on yor own,I measured the space between the scattershield and cowl side,and there will be room for my 3 pedals I think.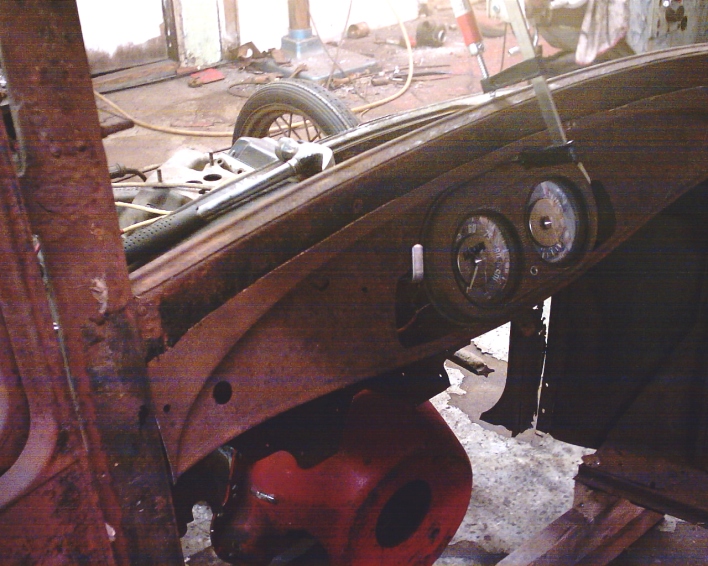 Dash trial fitted in car,the gauge cluster is upsidedown in this pic,as I thought it would be easier to read the gauges.but will turn it around again and trim the edges to tillt it upwards instead.
Thats it for now,check in later as I will update as soon as there´s any progress.